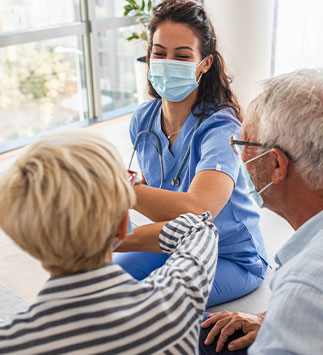 Senior Behavioral Wellness Insurance Plans offers families the opportunity to provide enhanced behavioral health benefits for your loved one's care at a nursing facility that may have only Medicaid coverage. Our plan allows the facility to offer your loved one with dementia, depression, or other conditions greater access to critical behavioral health services and proactive care. We offer full access to our network of mental health care professionals that complement the existing team of health care providers to provide the highest level of care to the individual.
Senior Behavioral Wellness Insurance Plans are available at NO additional cost to eligible individuals. Our plan qualifies as an eligible deduction to the patient's liability to the Long-Term Care Facility. Medicaid Residents with income who enroll may qualify for the comprehensive Behavior Wellness benefits even if they currently have a limited Behavior Health benefit.
The full-service program offered through the Senior Behavioral Wellness Insurance Program offers the opportunity for:
All members receive bi-annual Wellness Assessments to provide proactive vs reactive behavioral care. Studies have shown early detection is key to managing behavioral care and minimizing the impact on general health.


Regular visits for supportive interventions and psychiatric management are provided as part of the program in working with fragile residents who require additional care and treatment.


Prompt response time to acute conditions that may arise to prevent unnecessary hospitalizations.


Participation with the interdisciplinary care team allows greater coordination of care, family involvement, and minimizes negative health outcomes.


Increased coordination and integration of primary care, facility staff, and family for chronic care disease management. Studies have demonstrated that incorporation of behavioral services to the interdisciplinary team at the facility adds a critical layer of overall health management and well-being.


Increased support and education to residents, families, and facility staff to better detect and manage behavioral health conditions.


Improved quality of life has been clearly demonstrated when care is provided in a holistic and well-coordinated fashion rather than a fragmented manner.


Improved relationships between residents helps to prevent isolation and depression which is directly correlated with overall health outcomes.


Greater participation in activities, rehabilitation, and other restorative therapies when behavioral care is properly managed directly leads to better overall health outcomes.


Reduced risk of medical complications. Research has clearly demonstrated the link between emotional health and physical health. Untreated conditions such as depression, anxiety, and agitation are directly related to significant decline in general health status and well-being and increased mortality rates.


Greater encouragement and support is provided to residents for preventative care and to minimize the emergence of more significant behavioral and emotional disturbances.
The Senior Behavioral Wellness Insurance Plan has the resources and clinical leadership to assist families and participating facilities in ensuring critical services are available to accommodate the unique needs for your loved one's care.